Youth Services
Notable work done by our club –
Scholarship of ₹30,000/-  to meritorious student was given on 25th June, during COTS for 2019-20 in presence of AG 2019-20 Rtn Arindam Pakrashi.
School uniform distribution camp was held at  Arya Parishad Vidhyalaya in association with RC Avyanna, on 27th July, 2019 at Arya Parishad, sponsored uniform of 50 underprivileged Girl students. The projects were followed with fellowship between the members of both the clubs.
Miss Nishka Ganeriwala (D/o. Rtn Sunil Ganeriwal) was the guest speaker in the RWM. She scored 98% marks in her high secondary exams. She spoke about her activities and ambitions. The members wished her best in her future endeavours.
RC Calcutta Yuvis in association with AIESEC conducted World Largest Lesson (WLL). It was a unique project where 250 young faculties conducted interactive sessions with 5000 children of 4 different school at the same time. An initiative under Rotary Focus Area of Literacy & Career Guidance.
RC Calcutta Yuvis organized flag hosting and sweet distribution programme to celebrate Independence Day in our Happy Schools at, Gayatree HindiVidyalaya -Serampore, Shree Ganesh Shankar Vidyalaya,Kolkata and Arun Bal Vidyalaya School, Kolkata.
Rtn Chaitali Das was the guest speaker for the month of August. a trendsetter, Social entrepreneur, philanthropist, multi-talented women of dynamic personality delivered a wonderful speech and highlighted the jute work she is doing under her organisation Rakshak run by all women artisan which help them to earn bread and butter for their family. She also briefed about the work done by her organisation for upliftment of prison inmates and neglected street children. The members applauded her hard work and passion for skill development and conserving environment.
Eleven water purifiers were installed and inaugurated at schools in Hooghly & Gurup area  benefiting thousands of students and teaching staff.
RC Calcutta Yuvis had Guest Speaker at their 468th RWM. Ms Pooja Agarwal spoke about her life as a homemaker and successful entrepreneur of turning around a sick unit into a profitable organization. Members found the talk motivating.  
Rotary club of Calcutta Yuvis towards its commitment to provide safe drinking water to the underprivileged schools of West Bengal ,Inaugurate SIX water purifier today in underprivileged schools at NEWTON & RAJARHAT area near Kolkata city with the support of CSR funds.
In Association with R5 Rotary Clubs "Meet-A-Wish" our annual project was held at Medical college and Hospital Kolkata. The gifts as per wish of the 65 terminally ill children were fulfilled. Snacks & Beverages were provided to all the visitors. Entertainment program was also arranged.
Rotary club of Calcutta Yuvis towards it's commitment to provide safe drinking water to the underprivileged schools of West Bengal ,Inaugurate FIVE water purifier today in underprivileged schools at DUTTAPUKUR ( Barasat ) area near 50 kms from kolkata city with the support of CSR funds.
RCCY members visited a local NGO to support them for betterment of underprivileged street children. We offered Education scholarship for the children and also distributed food among them on World food day.
1st November at our 475th RWM, we invited Mrs. Punam Srivastav along with her daughter and handover the cheque to support her studies. Yuvis have been supporting her from last four years after she lost her father due to cancer.
Children's day celebration at school for specially abled children "Titirsha" run by an NGO in new town. Our club donated one steel almirah, one Kent Water purifier, one Vinyl Board with Marker for their daily use and also distributed sweets to all the 36 differently abled children's studying in the school.
Celebrated children's day with 70 slum kids in Topsia slum area attached to an NGO Tiljala shed. Food and chocolates was distributed to all the kids and a good time was spend with them. Mrs India Apsara Guha Thakurta grace the occasion to enjoy with children.
Mrs Maria Norman Principal of Agrasen Girls School was the guest speaker in the RWM. Rtn Sunil Ganeriwal (VP) was given opportunity for conducting the meeting to create new leadership.
RCCY participated in a grooming session of the children. It was done through PPT presentation ,Quizes and live performances. RC Cal Yuvis donated drawing books & colors to all the kids and participated in the day long grooming event.
RCCY gave a scholarship of Rs.1 Lakh to young sports champion. We had been continuously supporting young talent and one such person is Ms. Sanya Vats who is currently the top rank holder in U-19 Squash in India. She recently won a Gold Medal at the South Asian Games.
RCCY towards its commitment for providing safe drinking water at schools installed & inaugurated two water purifiers at two schools at Rajarhat, Kolkata. It will benefit thousands of children.
RCCY Jointly with RC Saltlake Green City as Lead host supported a Colorful Rally for Child Development at DurgacharanMitra Street Kol -700 006
RCCY Jointly with RC Salt Lake Green City as Lead host participated in Sports for children. It was also supported by other clubs of RID3291.
RCCY Jointly with RC Salt Lake Green City as Lead host participated in Sit  & Draw for children. The event was well attended by 100 underprivileged children and they all enjoyed the competition.
RCCY organised its 5th edition of annual quiz on environmental awareness "Eco Achievers Quiz" jointly with our Rotaract Club of Adamas International School. This year MCKV was the host school. PDG Brojo Gopal Kundu, DGND Ajay Law & Mrs. India Apsara Guhathakurta were the esteemed guests for the event. The quiz contest was participated by 32 teams from 25 schools from all over the Kolkata. The event was a great success and highly appreciated by all. The Top three team goes onto to participate in the Semi Final at Patna & then onto Final at Mumbai.
RCCY jointly with four other clubs of R5 organised its flagship project "Meet-A-Wish" for approx 150 children of three different NGOs. The kids of these NGO are mostly kids of slums and also few of them were differently able. Gifts as per the requests of the children were distributed among them. Magic Show to regale the children was arranged. Food packets, refreshments were provided. 
RCCY celebrated Republic Day with children of two schools supported by our club at Central Avenue. We did the Flag hoisting and distributed Food, Chocolates and necessary items like Pencil box, Tiffin Box, Colours etc. to all the children.
RCCY members Rtn Sunil Ganeriwal, Rtn Vineet Saraf, PP Rtn. Manoj Pasari and President Ashish Agarwal participated in Saraswati Puja celebration at WVS school.
RCCY sponsored and participated in RYLA 2020 organise by RC Cal Sun City at Dhyan Ashram, Joka, benefiting 50 young girl teenagers. It was a three day event from Friday 7th of February to Sunday 9th of February.
RCCY Donated 4 Water Purifiers under its initiative to provide safe drinking water at schools. We inaugurated Four Water Purifiers at different schools near Sodhpur & Kharda area jointly with RC Murshidabad. The schools were, Nimta jibantosh ghosh memorial girls high school, Shyamaprasadnagar balika vidyalaya (high school), Prafulla Vidyamandir, Nimta and Khardah Shibnath High School. Approx 2500 students & teaching staff were benefited from this project.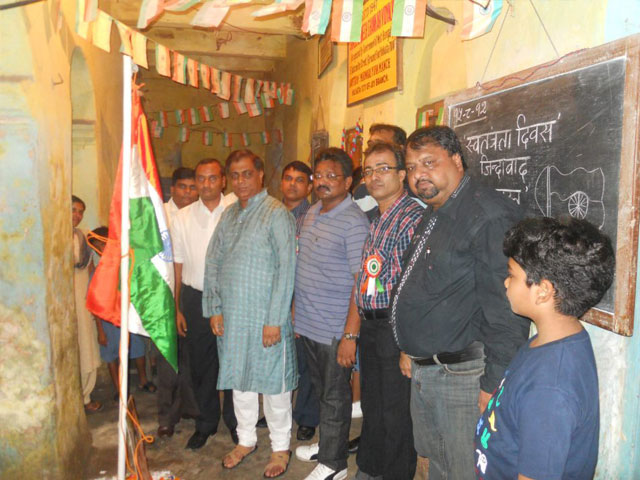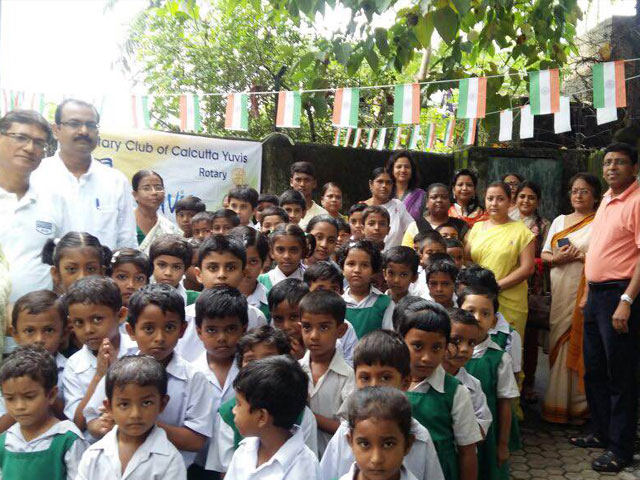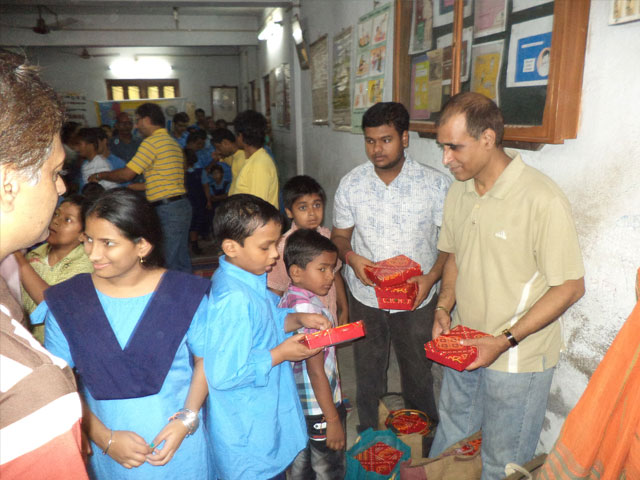 89 terminally ill children's Wish was fulfilled by gifting them with their desired Wish/requirements like Barbie dolls, Cycles, Remote Controlled Cars, Dresses, Scholarship etc was organized by the Club in association with Rotary 5.

Diwali Celebration was organized at Christian Mission Home for Girls, an orphanage. 100 children of the Home participated, Fireworks were bursts, sweets were shared. Dinner was also arranged.
An Outing for the Girls from "Christian Mission Home for Girls" to Belur Math & Eco Park visit Was organized by the club in association with Rotaract Club of Calcutta Yuvis. 135 children of the Home participated & visited both places with 15 Attendant/Teachers. Lunch & Snacks were served.
Yuvis attended the Innerwheel Clubs Carnival. 10 orphan children from Christian Mission Home for Girls were sponsored by the Club to attend the same.
RC Calcutta Yuvis organized Bala Project at Christian Mission Home for Girls, Hind Motors alongwith Inner Wheel Club of Calcutta Metro Maida, Rotaract Club of Calcutta Yuvis & Jagriti Sangha ladies. 83 participates were distributed with 83 packets of Napkins.
RC Calcutta Yuvis organized Saevus Nature's Inter School Quiz in association with, Saevus, Inner Wheel Club of Calcutta Metro Maidan, Interact Club Of Adamas International, which was a huge success with 48 schools participating. Winning schools were DPS Ruby Park, DPS Megacity second and Heritage school third. Print, FM & Digital Media covered the Event with Taaza TV covering the show and telecast over 2 episodes. Spl guests were Rtn Brojo Gopal Kundu, Mrs Richa Sharma. Winning Schools goes onto compete on All India Final at Mumbai on 10th Feb 2018. More than 40 schools from all over India are expected to participate in the said Final.